Congress and events IT support
Our comprehensive set of event and conference supporting products, along with our extensive expertise, makes organizing congresses and conferences a painless and straightforward task. Our products support a wide range of activities, such as keeping records about participants, participating organizations, partners, presentations, screenings, voting and other events support.
Events support
Congress tourism solution covers information support for fairs, exhibitions, seminars and symposiums.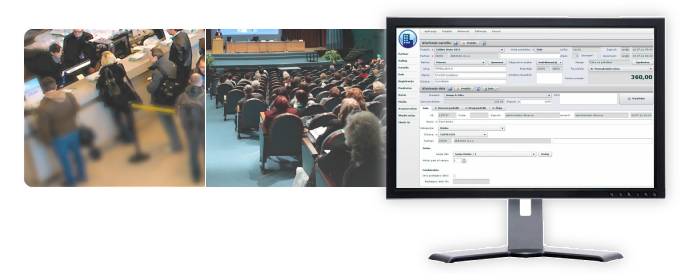 Abraxas Congress Tourism can help you organising an event
Before the event invitations can be easily and quickly sent to your clients with the help of built-in tools for sending e-mail or regular mail. CRM assists you with collecting their responses and wishes.
If you organized a contest within the event, e.g. for best advertiser, you can create groups and categories in Congress Tourism in which the participants declare the works they are competing with.
The participants apply through a special registration application on your website. The information is stored into the database of your company. With the enclosed application, which is a part of the festival office, you can review, control, and correct them. You can also receive the applications through telephone or e-mail.
Online or telephone applications enable charge card and credit card payments.
The registrations at the registration desk can be made quickly as the program updates the list of participants, which can be registered with only one click. It shows you which materials and presents belong to someone and where someone should be directed.
Collect and fulfil the wishes and demands of the participants. You can register participants that did not register before the event on the spot.
After the event you can send thank you notes to the participants through e-mail or regular mail using the program.
Events support would be incomplete without a detailed analysis of how successful the event was, so this is an integral part of our solution.
With the built-in CRM tool you can send notifications and invitations to new events to your clients and thus stay in touch.