Assists with events organisation
Abraxas Congress Tourism assists with realizing and managing festivals, conferences, seminars, symposia, and congresses.
It does a lot of work you would normally need to do manually. Tasks in connection with receiving applications end event managing will be done faster and your clients will be more satisfied.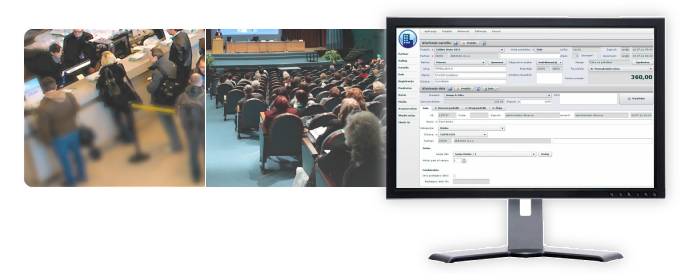 How can Abraxas Congress Tourism help you before the event
Before the event invitations can be easily and quickly sent to your clients with the help of built-in tools for sending e-mail or regular mail. CRM assists you with collecting their responses and wishes.
If you organized a contest within the event, e.g. for best advertiser, you can create groups and categories in Congress Tourism in which the participants declare the works they are competing with.
To collect applications
The participants apply through a special registration application on your website. The information is stored into the database of your company. With the enclosed application, which is a part of the festival office, you can review, control, and correct them. You can also receive the applications through telephone or e-mail.
Online or telephone applications enable charge card and credit card payments.
With registration
The registrations at the registration desk can be made quickly as the program updates the list of participants, which can be registered with only one click. It shows you which materials and presents belong to someone and where someone should be directed.
During the event
Collect and fulfil the wishes and demands of the participants. You can register participants that did not register before the event on the spot.
After the event
After the event you can send thank you notes to the participants through e-mail or regular mail using the program.
You can create a detailed analysis of how successful the event was.
With the built-in CRM tool you can send notifications and invitations to new events to your clients and thus stay in touch.